Create a print of planet earth using a coffee filter, markers and water!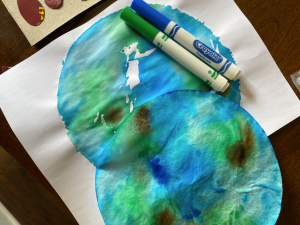 What You Need
Washable marker
A coffee filter
Blank paper
Water cup and paintbrush
Note: You may want a place mat or scrap paper to put underneath your project in case the marker bleeds through.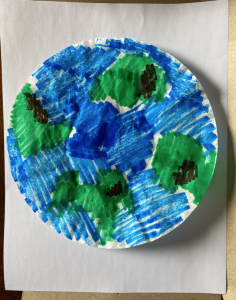 What To Do
Color your coffee filter using "earth" colors. (It doesn't have to be completely colored in or super neat.)
Put your colored coffee filter on your white paper. Put your white paper on your place mat or scrap paper.
Use your water and brush to paint water onto your coffee filter. The colors will blend together! Leave it to dry completely.
Remove the coffee filter from your paper and enjoy your beautiful print! You could use markers or crayons to add decorations around your earth to finish it up, or just enjoy your print as is.