How is it that no two fingerprints are exactly alike? Leave your mark with this hands-on fingerprint activity!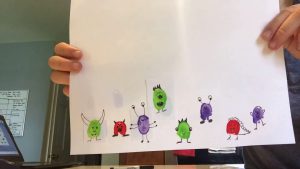 Watch Fingerprint Monsters Video
One thing that makes us so unique is our fingerprints. You are the only one in the world with your fingerprint!
There are three types of fingerprints: loops, whorls and arches. 
In this video from the NY STEAM Bus at Niskayuna CSD, Emma Anderson shows you how to turn your fingerprints into fingerprint monsters!
What You Need
A piece of paper
Paint
Paint brush
What To Do
Paint a thin coat of paint on one of your fingerprints.
Press finger down firmly on the paper. 
Repeat Steps 1 and 2 multiple times
After making fingerprints, take a marker and take a marker and decorate them
What does your fingerprint art look like? Share a picture by tagging #CapRegSummer and submit the picture at the NY STEAM Bus Summer Adventure page.