Turn your backyard into a launch pad!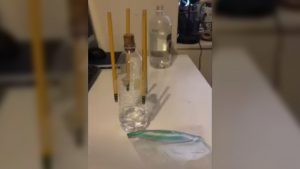 Watch Making Rockets in Your Backyard Video
No astronaut's mission is possible without a rocket to blast your ship off into space. 
In this video, a member of the NY STEAM Bus at Niskayuna CSD shows us how we can build a rocket in our backyard with items you can find around the house. 
What You Need
1 plastic bottle
4 pencils or pens
1 piece card stock or similar heavy paper
2 ounces baking soda
1 zip-top bag
1 cup vinegar
1 cork
Tape
Glue
What To Do
Tape all the pencils to the bottle in such a way that the rocket stands up.
Pour a few ounces of vinegar inside the bottle to act as fuel.
Place cork inside the top of the bottle.
Pour a few teaspoons of baking soda inside a zip lock bag.
Take your rocket and the bag of baking soda to an open space where you can launch the rocket. Make sure to have an adult with you. 
Take the cork off your rocket and cut a whole into the bag with the baking soda so it pours into the top of the bottle.
Put the cork back on and turn the bottle upside down so it rests on the tips of the pencils. 
Blast off!
How high did your rocket go? Share a picture or video by tagging #CapRegSummer and submit the picture at the NY STEAM Bus Summer Adventure page.