Be an engineer and build your very own city in this creative, hands-on activity.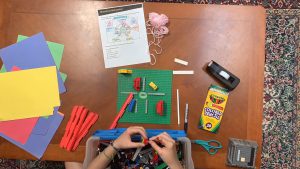 Be the designer of a brand-new city and decide what buildings and places make it into your own marvelous metropolis. 
In this video from the NY STEAM Bus,  Hayley Neufeld gives us the instructions to build our own model city with items that may be found around the house.
What You Need
Piece of paper to plan on out design.
Anything around the house you choose to use (LEGO, construction paper, building blocks, etc. ).
Make a list of all the items you will use to build your model city before you build it. 
What To Do
Draw out a scale model for your city and make supplies list.
Gather materials.
Lay down your base as something to build on.
Build your model city up from the ground!
How did you design your model city? Share a picture by tagging #CapRegSummer and submit the picture at the NY STEAM Bus Summer Adventure page.