Have you ever wondered what it would be like to transport moon rock samples?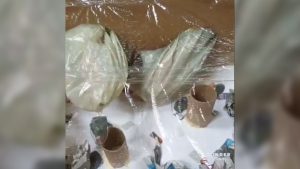 Watch Moon Rock Mystery Box Video
Imagine you're an astronaut traveling to the moon to bring some rocks back to Earth so you can study them. You'll need something to transport all of those rocks in.
In this video, a member of the NY STEAM Bus at Niskayuna CSD shows us how we can build a Moon Rock Mystery Box right at home and make sure it's ready for the big mission!
What You Need
Plastic wrap
Scissors 
Newspaper
Colored pencils/crayons/markers (any of these)
2 toilet paper rolls
Aluminum foil
2 plastic spoons
Scrap cardboard
2 plastic bags
Rocks
Tape
5 sheets of white paper
Medium cardboard box
What To Do
Cut the flaps off of the top of the box.
Use tape to create 6 tape rings and place them in the bottom of the box.
Take 4 pieces of white paper and layer them inside the box. Secure with additional tape rings.
Decorate paper to look like moon craters. Be creative!
Add rocks.
Make 4 small aluminum foil balls and add to the box.
Attach toilet paper rolls (standing upright in box) with tape.
Cut cardboard strips into small squares (like confetti) and add to the box.
On the long side of the box, use the tape ring to trace 2 circles.
Cut out the holes with scissors. *Use adult help!
Check to see that your hands can fit through the holes.
Feed each plastic bag into the 2 holes so that the bag openings are outside of the box.
Drop 2 plastic spoons in the box (these are your grabbers).
Lay plastic wrap over the top opening of the box.
Place your hands inside the bags, inside the box. Pick up the spoons, and try to pick up the moon materials!
Transport the moon materials into the toilet paper tubes.
Create a data table like the one below. Complete 5 trials of 30 seconds and see if the number of specimens that you transport into the tubes increases.
Great job, Astronaut!
Data Table Layout
30 second Time Trials – # of samples you collected in 30 seconds

Trial 1 –
Trial 2 –
Trial 3 –
Trial 4 – 
Trial 5 – 
What does your Moon Rock Mystery Box look like? Share a picture by tagging #CapRegSummer and submit the picture at the NY STEAM Bus Summer Adventure page.