You create the hero. You make the challenges. It's your board game!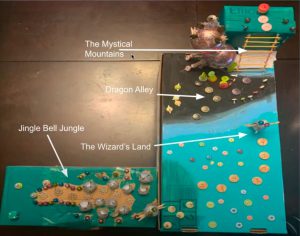 Watch the Hero's Journey Video
When a hero goes on a journey, they overcome the obstacles in front of them and grow as a result of it. Here's your chance to create your own journey.
Use your imagination to create a board game. Create a hero and create the challenges the person who plays as the hero has to beat. 
In this video from the NY STEAM Bus at Niskayuna CSD, Frank shows us how to make the board game on your own and goes through it with you step by step. 
What You Need
Materials to make your game board, such as paper, poster board or a computer program)
Dice or coin
Something to draw with, such as crayons, markers or colored pencils
Item to represent your hero
What To Do
Create a board game that challenges a hero to overcome 3 or 4 challenges.
Use dice or a coin to move your hero forward through his/her journey.
Create names for your hero and each challenge.
Create instructions for game and challenges.
What is your hero's journey? Share a picture by tagging #CapRegSummer and submit the picture at the NY STEAM Bus Summer Adventure page.