In this activity, young bakers create colorful (and quite delicious) cookies inspired by fantasy's most beloved mythical creature.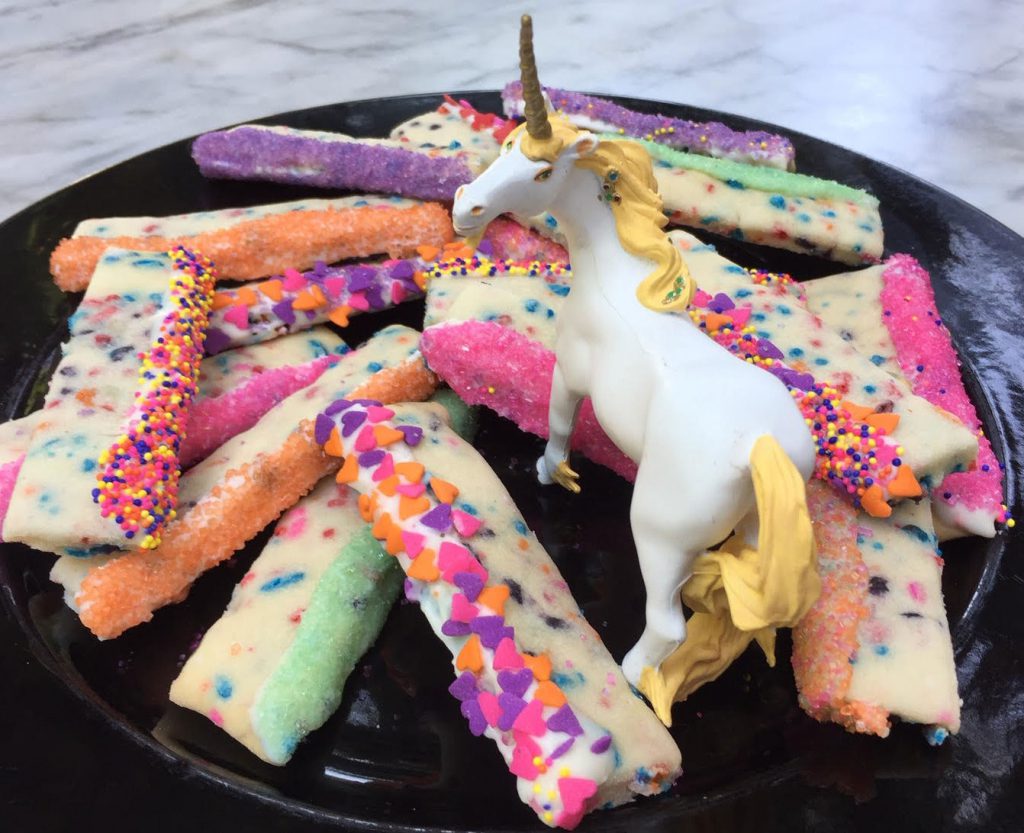 No tea party is complete without Unicorn Manes, the favorite biscuit of fairies, elves, pixies and wizards alike. Even hobbits, famous for their hospitality and love of good food, agree and are known to nibble on these cookies from First Breakfast all day long and right through Dessert Immediately Following Supper. 
To make a batch you'll need a few basic pantry ingredients, plus plenty of sprinkles. An adult human's assistance will likely be needed, but even the youngest kids will enjoy decorating these colorful and tasty treats.
What You Need
½ cup butter, softened
¾ cup powdered sugar
1 large egg
1 ½ cups all purpose flour
¼ cup sprinkles for the dough
½ cup white baking chips
Additional sprinkles for decorating. (Think about the unicorns you've met and the color of their manes.)
What To Do
In a large bowl, cream together the butter and sugar until light and fluffy.
Beat in the egg.
Gradually add flour, mixing as you add, until blended.
Stir in sprinkles.
Form the dough into a ball and wrap in plastic, then refrigerate for an hour. (You can leave it in longer. It will be fine.)
When You're Ready To Bake Your Unicorn Manes
Preheat the oven to 375 degrees.

Line a baking sheet with parchment paper. If you don't have parchment paper, lightly grease the baking sheet with butter or shortening.

Place the dough on the parchment and shape into a 12×8″ rectangle. (Pro tip: Start by pressing dough with your hands, then use a rolling pin and the edge of a ruler to make the 12×8″ rectangle. Use a knife to trim the uneven edges, but don't worry if it's not perfect.)

Score the dough into 24 rectangles. ("Score" means to make shallow cuts in the dough with a knife. Don't cut all the way through. Once the dough is baked and cooled, the score marks will help you break it into neat little cookies.)

 

Bake until edges are golden brown,  about 10-15 minutes. 

Remove to a cooling rack and let cool completely.

Gently break or cut the dough along the score marks.
When You're Ready To Decorate
Pour your decorating sprinkles onto a flat surface, such as a plate or rimmed baking sheet. 

Melt the white baking chips.

To melt them in a microwave, put them in a microwave-safe bowl and microwave for 20-30 seconds on high. Take the bowl out and give the chips a stir. If they aren't melted, repeat microwaving and stirring until the chips are melted and smooth. 

Dip one edge of each cookie into melted chips, then dip in sprinkles.

Set the cookies on parchment paper, waxed paper, or a cooling rack until set.