Kids get to play engineer in this imaginative planning activity.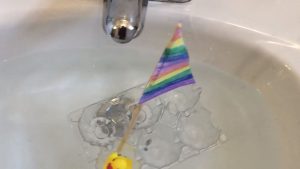 You're out camping and exploring the woods with your friends. That's when you realize you're across the river far away from your campsite.
You need to build a boat that can take you across the river using only household items.
In this video from the NY STEAM Bus at Niskayuna CSD, Asia Godzwon sets us up with a plan to build a successful boat!
What You Need
An adult's permission
Any items around the house you feel will help your boat float (e.g., egg carton, cardboard box)
Something to draw a sketch of what your boat will look like
What To Do
Find materials around the house to build a boat you feel will float.
Draw a sketch of what your boat will look like.
Assemble your boat.
Test your boat out in water. You can use anything like a sink or bucket filled with water. 
What does your boat look like? Did it float? Share a picture by tagging #CapRegSummer and submit the picture at the NY STEAM Bus Summer Adventure page.